The More You Know: Sky Lanterns
Order Now! Call 1-800-800-BANG (2264)
The More You Know: Sky Lanterns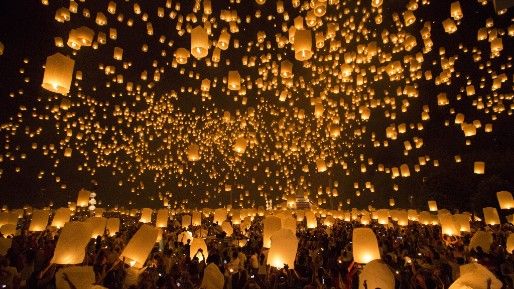 Sky Lanterns, also known as Chinese lanterns, are paper balloons that have a flammable oil covered patch of material suspended in the middle of an opening at the bottom like a hot air balloon. When used correctly they fly hundreds of feet into the night sky glowing white or whichever color you're using.
As they have grown in popularity, these lanterns have been used for a ton of different public and private events. Across the globe, people have gathered in groups to launch hundreds sometimes even thousands of these lanterns into the night sky. For example, in 2013, at the University of The Philippines, 15,185 lanterns were lit and released within 10 minutes! The effect that is accomplished is breathtaking. To see all the glowing lanterns fill the area as they drift off like fireflies or stars into the night sky is a sight you'll want to create for yourself. Remember, no matter how you use the sky lanterns, the only thing better than one sky lantern is more sky lanterns!
Our inventory has really grown over the years and we now carry over 10 varieties of sky lanterns. We have several assorted sizes and colors along with our specialty lanterns. The specialty category includes Gender Reveal in blue and pink, Honor a Veteran in green, Patriotic in American Flag, In Memory Of, which allows the customer to write on the lantern, a Red Heart, and even a Jack-o-lantern!
Sky lanterns, much like fireworks, are used to bring emotions to the user and their audience. Whether they are being used to remember, honor, celebrate, or just enjoy they have been a great addition to the fireworks novelty category and they will not be fading away anytime soon.
blog comments powered by

Disqus