Terminator Canister 24 Shells 5"
Order Now! Call 1-800-800-BANG (2264)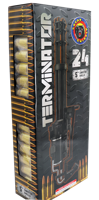 Category: Premium Artillery Shell Kits with Fiberglass Tubes,2020 New Items
Item Number: 2975
Package Contents: 4-24
Dimensions: 11 x 5.5 x 27
Weight: 56 lbs
Brand Name: Great Grizzly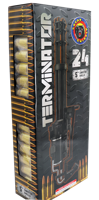 Redesigned, rebuilt, and reimagined, the NEW 5" Terminator Artillery Shell from Great Grizzly has a new attitude and is ready to reclaim its dominance. This big box is packed with 24 unique maximum load effects along with 4 fiberglass tubes. With vibrant colors exploding high into the night sky, mixed with the newest effects available, these 5" super shells will impress even the most seasoned pyro's.