Super Stinger 24 Shells 6"
Order Now! Call 1-800-800-BANG (2264)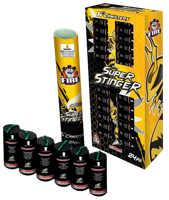 Category: 2021 New Items,Premium Artillery Shell Kits with Fiberglass Tubes
Item Number: 2944
Package Contents: 3-24
Dimensions: 13.5 X 5 X 28
Brand Name: Fire Factory
We gave you a taste of the Wasp in 2020, now get a taste of the Murder Hornet! Super Stinger is back with a vengeance. We took our best-selling 6pk and stung it in the ass. Along with 12 Dual Stage Mines to breaks, Super Stinger 24pk now features 6 Ring shells and 6 Whistling Tails. Feel the sting!