Neon Predator XL 24 Shells 5"
Order Now! Call 1-800-800-BANG (2264)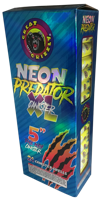 Category: 2020 New Items,Premium Artillery Shell Kits with Fiberglass Tubes
Item Number: 2928
Package Contents: 4-24
Dimensions: 11 x 6 x 27
Brand Name: Great Grizzly
You asked and Great Grizzly delivered! Our Top Selling Predator XL 5" Canister Shells, now available in NEON! Neon Predators are the latest addition to the Best Selling line up of Predator 5" Canister Shells. NEON features 24 hand-selected effects of the most vibrant and unique colors available on the market.