Order Now! Call 1-800-800-BANG (2264)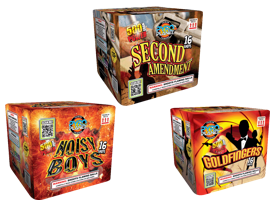 Category: 500 Gram Cakes
Item Number: 1778
Package Contents: 3
Dimensions: 10x9.75x9
Weight: 35lbs
Brand Name: Pyro Planet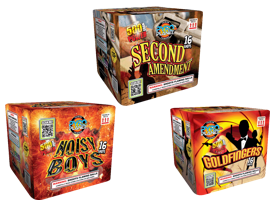 Second Amendment - Celebrate your second amendment rights with red, white and blue peonies mixed with crackling and a finale of crackling palms!
Noisy Boyz - Huge crackling mines under peonies of blue, red, purple, yellow and green with a crackling finale!
Gold Fingers - Big color dahlias in that change suddenly into dripping brocade fingers! Effects include red, blue, purple, green, yellow and gold brocade!